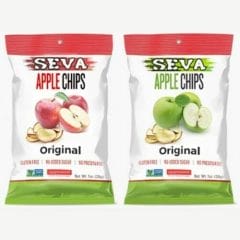 Free Apple Chips Sample
Appleseed Food Frontiers is giving away free samples of SEVA Apple Chips. This freebie is ideal for when you're craving a tasty treat. Apple-flavored snacks are just like chips, but they might taste a little bit different and are made out of apples rather than potatoes - so give them a try!
To claim your free bag of appleseed chips, please click the green button below. This link will take you to the Appleseed Food Frontiers website, where you can enter in your details. Once the information is complete, just sit back and wait for your free sample to arrive in the post.
CLAIM OFFER