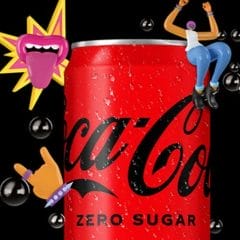 Free Can of Coca-Cola Zero Sugar
Enjoy a can of Coca-Cola but not the sugar content? Then this is the offer for you because Coca-Cola is giving away free 330ml cans of their Zero Sugar drink. All you have to do is claim the free offer by entering your details, and you will be sent a voucher to get your free can.
Click the green button below to visit the Coca-Cola sample page on Facebook. Once there, click "Learn More", and the link will take you to the Coca-Cola website. You should then enter your details, including your date of birth, select your nearest location offering the free drink, and once you are at your chosen store, the voucher will activate. This voucher can then be used to get the free can. Enjoy a guilt-free fizzy drink but get one before they go!
CLAIM OFFER