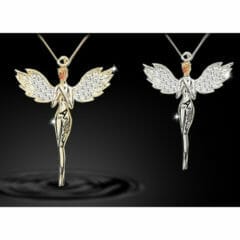 Guardian Angel Necklaces for €6.99 – A 90% Saving
Get large discounts on a variety of products by shopping on the GoGroopie website. If you love sparkly jewellery, one of their latest deals is a must-have. You can save up to 91% on stunning Guardian Angel Necklaces. There is a choice of gold or silver plating, and the angel is decorated with stunning Swarovski crystals.
There are different buying options, you can choose gold plated, silver plated, and you can buy one of each colour, or you can buy a set of two or three. One necklace should be €73.45, but you will pay €6.99. Two necklaces are €12.99 instead of €146.90. Finally, the set of three necklaces would cost €220.35, but on GoGroopie, you will pay €19.99. These prices are the same for both colour options.
To see the offer on GoGroopie, click the green button below. These necklaces are unique, and jewellery like this would be a thoughtful gift.
CLAIM OFFER