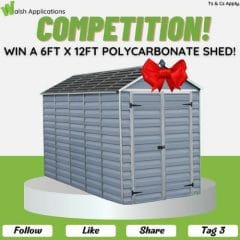 Win a Skylight Polycarbonate Shed
Walsh Applications are giving you the chance to win one of their durable 6ft x 12ft sheds! It is one of their Skylight Polycarbonate sheds, and it is the perfect prize if you want extra storage in your garden. You could put your gardening tools and more in a shed like this.
If you would like to enter this free competition, click the green button below, and the link will take you to the Walsh Applications Facebook page. Once there, follow the instructions on the post, and they will announce the winner on October 3rd 2022.
CLAIM OFFER