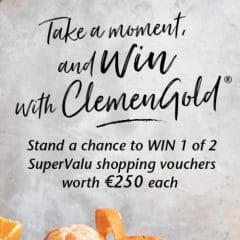 Win a SuperValu Shopping Voucher Worth €250
SuperValu and ClemenGold have teamed up and are giving away two €250 SuperValu shopping vouchers. If you enter their free competition, you could win one of them! Entering the competition is so easy to do, you just have to read the small section about ClemenGold and answer a question about LemonGold lemons.
You could stock up on your groceries with a €250 voucher, so enter the competition today by clicking the green button below. The link will take you to the SuperValu website, where you should answer the question and fill out the form with your details. Good luck with your entry, and don't forget to share this competition with your family and friends!
CLAIM OFFER