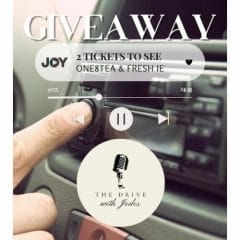 Win One8tea Ministries & Fresh IE Concert Tickets
JOY 96.5 are giving away tickets to the upcoming One8tea Ministries and Fresh IE concert. If you are the lucky winner, you will get two tickets for the show that is taking place at Journey Church on August 21st, 2022. It is a brilliant prize if you enjoy Christian music.
Click the green button below to enter the free competition, and the link will take you to the JOY 96.5 Facebook page. Once there, leave a comment with who you would bring to the concert if you won and your favourite song from "The Drive With Jodes" show. Enter today because the winner will be announced on August 11th, 2022.
CLAIM OFFER