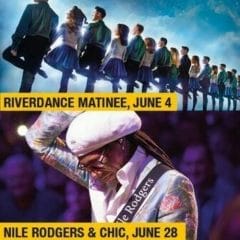 Win Tickets for the Riverdance Matinee and Nile Rodgers & CHIC
Echo Live IE is giving away free tickets to two amazing events. If you win, you will get two tickets to the Riverdance Matinee, which takes place on the 4th of June and Nile Rodgers & CHIC on June 28th. That's not all, you will also win dinner for two on both evenings at the Electric riverside bar and restaurant.
If you enjoy events and evenings out, this is a competition you can't miss! Click the "CLAIM OFFER" button to enter the free competition. The link will take you to the Echo Live IE website, where you should fill in the form and answer the question. This competition ends on May 18th, so don't miss out!
CLAIM OFFER