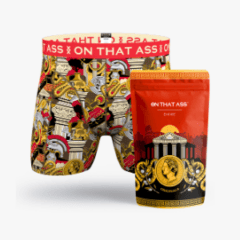 Free Boxer Shorts
On That Ass Ireland offers a fantastic boxer shorts subscription service, delivering a brand new pair of stylish boxer shorts to your doorstep every month. The best part? New customers can try their first pair absolutely free! They provide top-quality boxer shorts for men and boys, and by claiming your free pair, you can save up to €10.99. There's a variety of boxer shorts to suit everyone's taste, from simple designs without prints to unique, eye-catching patterns.
To get started, simply click the green button below to visit the On That Ass Ireland website. Once there, click on "Try for free", select your preferred style and size, and enter your details. Your first pair will be sent to you completely free, and your free 14-day trial will begin. If you decide to continue your membership after the trial period, you'll be charged the monthly fee of €10.99. However, you can cancel at any time, so make sure to cancel before your trial ends if you don't wish to be charged.
Don't miss out – order your free pair of boxer shorts today!
CLAIM OFFER