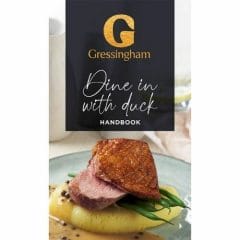 Free Duck Recipe Booklet from Gressingham
If you join the Gressingham mailing list, you will receive a free recipe booklet. The booklet includes a step by step guide on how to cook duck, and there are duck recipes as well. You can choose an E-booklet which you will get straightaway as a PDF, or you can choose a hard copy, which will be sent to you by post, and delivery can take up to 28 days.
Click the green button below to visit the Gressingham website, where you should fill in the short form to claim your booklet. By joining their mailing list, you will also receive cooking tips, recipes and more. You can unsubscribe from the mailing list after receiving your booklet at any time.
CLAIM OFFER