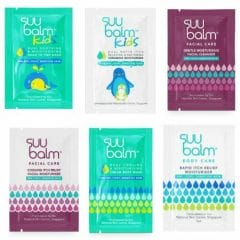 Free Moisturiser, Cleanser and Body Wash Samples
You can now get free Suu Balm samples. There are three sets of samples up for grabs, and all you need to do is select which one you would like. If you choose the Adults Range, you will get samples of their Dual Cooling & Moisturising Cream Body Wash and Rapid Itch Relief Moisturiser. There is also the Facial Range, which includes a Gentle Moisturising Facial Cleanser and Cooling Itch Relief Facial Moisturiser. Finally, there is a Kids Range, and this comes with the Kids Dual Soothing & Moisturising Head-to-Toe Wash and Kids Dual Rapid Itch Relieving & Restoring Ceramide Moisturiser samples.
Whichever range of samples you choose will be useful in your home, so order yours today by clicking the green button below. The link will take you to the Suu Balm website, where you should fill in the order form and select which range of samples you would like. Get yours before they go!
CLAIM OFFER