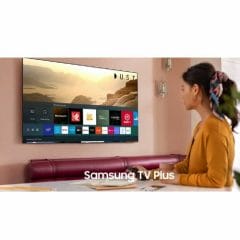 Free Entertainment, Sports & More with Samsung TV Plus
Have you got a Samsung TV? If so, you can watch Samsung TV Plus free of charge! Samsung TV Plus is a live streaming service with a range of channels so you can watch entertainment shows, sports, news, and more. There is something for everyone with this, and it is completely free. That's not all, you only need an internet connection to watch, so you don't need to worry about having additional devices or downloading anything, and you don't need to sign up or use a credit card.
It is just a free and easy service that you can watch without any hassle. Click the green button below to visit the Samsung website. Once there, you can see if your TV is compatible and where you can find the service on your TV menu. There is also an FAQ section if you need it.
CLAIM OFFER